Sally Hayter Physiotherapy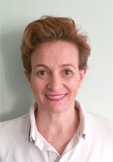 Maria Valenciano is a Senior Physiotherapist
Maria graduated in 1993 (BSc. (Hons) Physiotherapy, MSc. Osteopathy, HCPC, CSP, AACP), and was awarded with the highest academic achievement in physiotherapy from Universidad Complutense of Madrid. She further advanced her studies to include a Master of Osteopathy.
She has been a lecturer at Universidad of Alcala (Madrid) for 8 years, teaching Spinal biomechanics.
Maria has over 22 years of experience working in different fields as MSK, neurology and Woman's Health. She currently divides her time as Senior Physiotherapist at an NHS Hospital and at the Clinic.
Maria focuses on providing a detailed assessment and diagnosis which in turn allows her to produce appropriate treatment and rehabilitation plans. She has advanced skills treating patient using manual therapy.